The Regenda Group is delighted to have been recognised by Macclesfield Civic Society at their annual awards event for a second time.
The second phase of Regenda Group's Gosling Street development was recognised for its design and 'enhancement of the character of the town'. This follows an award for phase one of Gosling Street in 2017.
Completed in March 2021, Gosling Street is located near the heart of Macclesfield and includes 15 houses for shared ownership and 14 affordable rent apartments.
The properties were built by M&Y Maintenance and Construction and were sold by Liverpool-based property company, Redwing, and let by housing association, Regenda Homes.
Redwing, Regenda Homes and M&Y Maintenance and Construction are all part of the Regenda Group, a dynamic collection of organisations working together to regenerate places and create opportunities for people.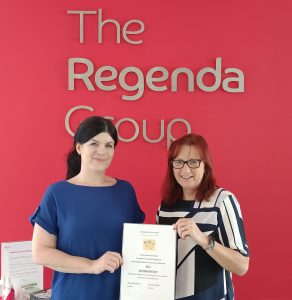 Pictured: Katie Davies, Head of Development and Sue Ward, Senior Development Programme Manager
Sue Ward, Senior Development Programme Manager at the Regenda Group said: "We're delighted to have been commended by Macclesfield Civic Society for a second time! We're so proud of our work in bringing Gosling Street from a disused yard to a thriving community."
The awards aim to stimulate public interest in the town, encourage high standards of environmental design, and protect buildings, places of historical and architectural interest for the town.
Keith Smith, Chairman of the Macclesfield Civic Society said: "The Macclesfield Civic Society were pleased to acknowledge the completion of Regenda's development at Gosling Street, Macclesfield – a perfect complement to the successful Cuckstoolpit Hill scheme which received an Award from the Society. Taken together the two schemes are a worthy and welcome addition to the local townscape and display imaginative design and layout features. All credit to Regenda for their efforts."